"ASHI & ICC" CERTIFIED Building Inspections
Testing & Measurement Certifications, CAZ, EPA, PTCS, BA, itc,
Oregon: 503-884-4866
Idaho: 208-761-6802
buildinganalystgroup@gmail.com
Building Analyst Group Inc, licensed general contractor certified to provide commercial & residential building inspections. Existing buildings or new construction we are here to help.
Redding California
Our Commercial Building Inspections comply with the scope of work specified in ASTM E2018 and includes a comprehensive visual inspection of the building's construction
Building Inspection Coverage
Buyers / investors / brokers need a professional, knowledgeable and experience company to look out for their best interest. We have over 35 years in the construction trades. 20 years as a licensed general contractor, electrical, mechanical, infrastructure, inspections, building codes, & 10 years in building science. Building Analyst Group Inc, does more than building inspections. We provide testing for indoor air quality, HVAC-R equipment, duct systems, electrical, refrigeration, restaurant equipment and much more.
Exterior: soil erosion, parking, lighting, foundations, slabs, stem wall, roofing material / roofing truss system upper & lower timbers, bearing loads - wind loads - snow loads, cladding - siding, structural framing. Is your building ready for a earthquake? With new laws in effect the exchange of ownership may surprise you! More importantly ADA-"American Disabilities Act", compliance for our disabled.
The roofing structure and framing of each building is of the most importance, main support beams are sometimes overlooked by less experienced inspectors. The exterior grounds surrounding the building has a large impact on the foundation. Hydrostatic pressures or faulty poor workmanship will cause failure. Commercial buildings are engineered & built different when compared to residential, you need a qualified experienced company.
Interior: electrical, plumbing, flooring, mold, dry rot, fire suppression systems, first aid stations, mechanical, HVAC-R equipment, boilers, HWH "hot water heaters"gas fired equipment, ventilation, test paint and drinking water for lead on request. Radon testing is something we also conduct utilizing electronic equipment, sewer pipe scope inspection when needed. Windows, doors, glazing areas, insulation & all contribute to air leakage and higher energy bills. These areas are inspected and noted on the report.
Ensure the integrity of your building construction by the experts at Building Analyst Group Inc. Building Analyst Group provides a full line of Building inspection services & testing for commercial buildings. Most inspection companies are not certified or licensed to provide testing on commercial buildings. Nor have they spent years conducting installations of the mechanical, electrical, HVAC-R as we have.
We have deadcaded years of experience and thousands of hours in certification courses to meet and exceed the requirements. We feel it is necessary to devote the time in this industry.
Building testing to evaluate air leakage, moisture intrusion, air quality, gas & oil fired equipment for efficiency, HVAC air balancing, verify energy usage / energy savings plus health & safety concerns.
WE HAVE YOU COVERED IN MORE WAYS THAN JUST ONE!
Commercial inspections
should be left up to professionals. Costly mistakes may occur by hiring a regular home inspector for commercial inspections. Always do your due diligence before hiring an inspector. I believe our certifications, knowledge & licensing speaks for itself.
Regardless of the level of Commercial Building Inspection (Property Condition Report) ordered, our inspector will find:
Inadequate design

Improper maintenance or worn systems

Equipment nearing the end of its useful life

Building code violations

Poor workmanship
We utilize many methods including our building science technology to provide a higher level of inspections for our clients. We inspect small to large commercial buildings with professional detailed satisfactory results. Give us a try to see the difference.
Combustion testing
We analyze and test fossil flue equipment for efficiency
Combustion testing
We also provide a printed report after each test
HVAC Airflow Balancing & Temperature
We check the air flow from each supply duct & measure the temperature. Some supply ducts may have to much or to little air flow. We then test the return air flow. Once this is completed we test the building pressures to find out how high or low the pressures are.
Commercial Kitchen Equipment testing
We inspect commercial kitchen equipment and test to verify in good working condition.
Building pressures
Taking a building pressure test reading helps identify the positive or negative pressures in your building. By doing so helps in the diagnostic testing for air leakage "efficiency" and potential hazards of back drafting of gas fired equipment.
Pressure testing
Utilizing a manometer will help us determine the air flow in air handlers.
Building pressures
Why is taking a building pressure reading important? By doing so we can determine high positive or negative pressures. We can also determine air leakage, duct leakage, back drafting issues of gas fired equipment or fireplaces.
Refrigeration Equipment inspections
We test walkin, reachin refrigeration equipment to verify temperatures.
Commercial oven testing
We test and inspect commercial gas ovens for proper working condition.
Thermal imagery
Being certified to operate a thermal camera is important. Most inspectors are not certified.
Amp draws
Taking amp draws on electrical equipment will tell us if your electrical device is near end of life, over drawing electrical current or if the equipment is within specifications.
Sewer line inspection
It has become common to have your sewer line between your home and city services inspected. By locating a break or deficiencies before purchasing a home or business may save you thousands of dollars later.
Sewer & Chimney scope Inspection
Chimneys
Chimney damage will cause fires. We utilize our digital scope to look for cracks or deficiencies in the chimney liner
Thermal Imaging
We utilize thermal imaging for many different reasons. We can determine the heat load of the bearings and shaft on electrical motors.
Thermal Imaging
We also look for roof leaks on large commercial buildings. Conditions have to me just right in order to locate these leaks.
Radon Testing
We use electronic top of the line equipment to test radon. In 48 hours the test is complete.
Formaldehyde Testing
We test indoor air for formaldehyde. Formaldehyde causes health concerns and even cancer.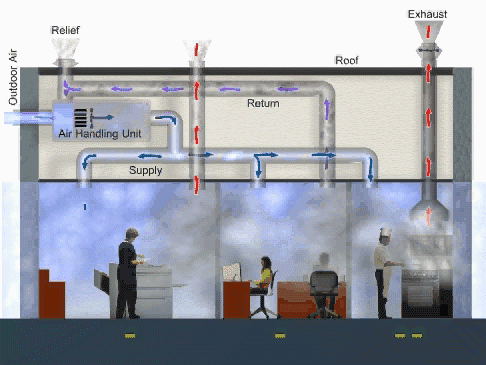 Building Pressures
By testing a buildings pressures we are able to determine which side of the duct system leaks than the other. We can determine if you are wasting energy. And we can tell if CO is being pulled back through the flues on gas fired equipment.
Volatile Organic Chemicals